Old cell phones?
Don't trash or stash them—Recycle!
Did you just get a new cell phone and are wondering what to do with the old one? Rather than adding it to your growing collection of unwanted mobile phones, Recycle it!
Recycling or donating unwanted cell phones, PDAs, chargers, and batteries has never been easier. Any and all components can be brought into one of our Drop-off Centers and can be recycled in the proper, environmentally safe way.
Why Recycle
Protect Your Environment: Recycling or donating cell phones helps the environment by saving energy
and keeping usable materials out of landfills. Cell phones and PDAs are made of precious metals,
copper, and plastics—all of which require energy to mine and manufacture. Recycling not only conserves these materials, but prevents air and water pollution as well as greenhouse gas emissions.
Did you know?
More than 100 million cell phones are no
longer used annually. If we recycled all of
them, we would save enough energy to
power 18,500 U.S. homes for a year!
Prepare for Recycling
Five Important things to remember:
• Terminate your service.
• Clear the phone's memory of stored
information.
• Conduct a factory hard reset by
following instructions from your
wireless carrier or the product
manual; or
• Use data erasing tools that are
available on the Web.
• Remove your SIM card.
For more information, contact your
network provider, or cell phone manufacturer.
Where to Recycle
You can drop off your old Cell phone, PDA, Cell phone batteries and chargers at any one of our 4 convenient drop off locations:
Computer Warehouse
7516-A Leesburg Pike,
Falls Church, VA 22043
PCRetro- Alexandria
4926-D Eisenhower Ave.
Alexandria, VA 22304
PCRetro- Beltsville
5031 Garrett Ave.
Beltsville, MD 20705
PCRetro – Glen Burnie
7578 Ritchie Highway
Glen Burnie, MD 2106
Regardless of age or model, there is no charge for dropping off these items at one of our locations.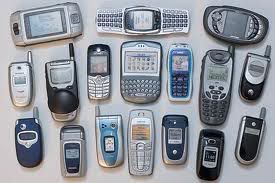 Source: http://www.epa.gov/